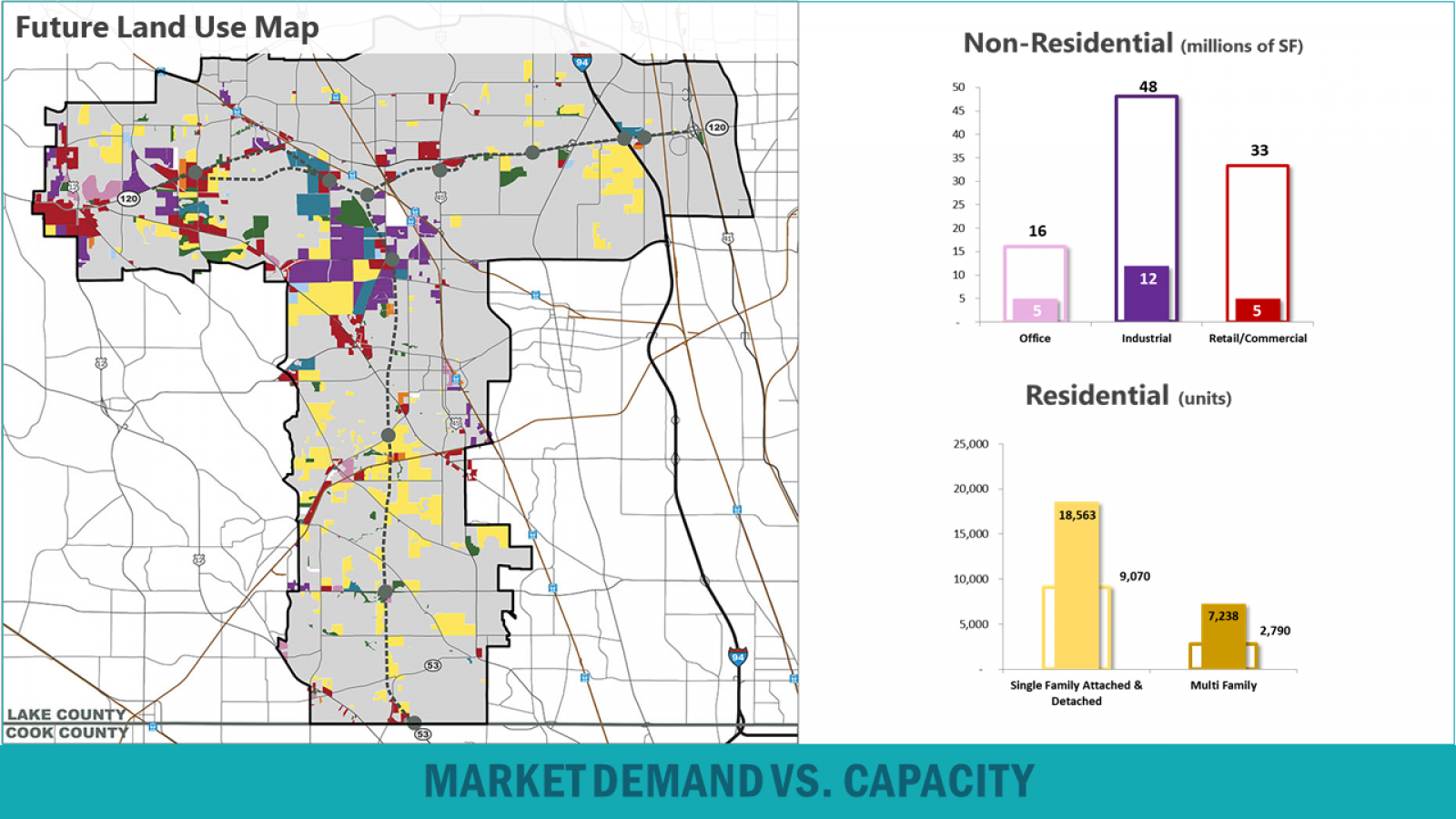 SB Friedman was engaged as part of a team led by The Lakota Group to assist in developing a transportation, land use and open space strategy for the IL 53/120 Corridor in Lake County, Illinois. The proposed roadway project includes the northern extension of IL 53 from its current terminus at Lake-Cook Road to IL 120, in addition to improvements to IL 120. The IL 53/120 Corridor covers a roughly two-mile radius from the proposed roadway alignment, including portions of 18 municipalities and unincorporated areas. The project would provide north/south access through central Lake County, significantly improving accessibility throughout the county, and is expected to considerably impact development potential along the Corridor.
SB Friedman utilized a customized market analysis approach to account for the significant development potential generated by the new limited-access highway, including: 
Conducting interviews and engaging with key stakeholders; 
Preparing top-down demand forecasts of the maximum market potential for office, hotel, industrial and retail uses;
Conducting fine-grained bottom-up analyses that simulate future market-driven development at the site level, based on site characteristics, community goals, and evaluations of site marketability and development capacity for various land uses; and
Synthesizing and reconciling top-down maximum market demand and bottom-up site level potential. 
SB Friedman worked with the overall team to prepare a balanced land use strategy that accommodates economic development potential, enhances mobility, and preserves community character, open space and environmentally-sensitive areas.
Results: The team's Land Use Strategy was approved by the Land Use Committee on November 12, 2015. Following this approval, on December 17, 2015, the Illinois Toll Highway Authority Board unanimously approved a resolution authorizing an Environmental Impact Statement (EIS) for the IL Route 53/120 project. This serves as the next step for proceeding with the roadway improvement. 
For more information on the IL 53/120 project and to view a copy of the Land Use Strategy document, please visit the project website at: www.lakecorridorplan.org.