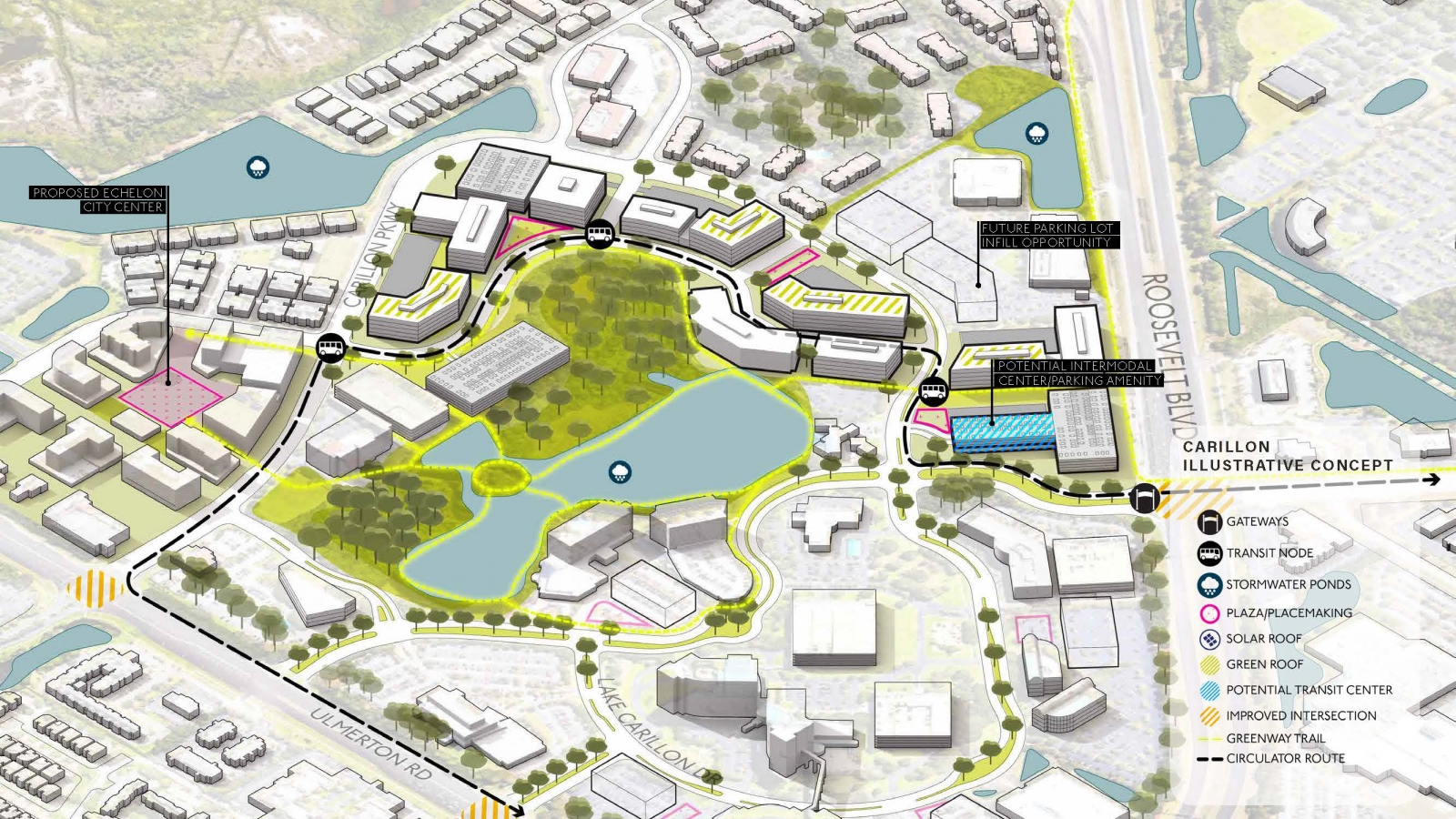 SB Friedman provided real estate market analysis and economic development and land use strategy services as a part of a larger master planning team for the Gateway Master Plan in Pinellas County.
The Gateway is an approximately 30-square mile area under four local government jurisdictions, including the cities of Largo, St. Petersburg, Pinellas Park and Pinellas County. This area is the primary economic engine of Pinellas County and comprises a mixture of Class-A corporate office space, industrial, retail and residential uses. The area is largely built out which complicates growth. Further, it suffers from the challenges of a disconnected automobile centric development pattern.
SB Friedman worked as a part of a multi-disciplinary team led by WRT to develop a Master Plan that created a vision, addressed the challenges, and provided strategies to enhance the study area in the future. A Steering Committee, made up of City staff, key stakeholders and economic development professionals, provided ongoing input and guidance at key decision points in the project, including identifying challenges and opportunities and selecting priority sites.
SB Friedman utilized a customized market analysis approach to project development potential for retail, office, industrial and hospitality uses These market findings informed targeted redevelopment strategies for key areas within the study area.
One priority subarea was the Carillon Office Park, a suburban Class-A office park anchored by multiple Fortune 500 companies. Our plan sought to leverage future transit enhancements and a multi-modal transit hub to transform the existing surface parking lots and underutilized land and catalyze additional mixed-use development.
Results: The master plan was finalized and a memorandum of understanding between the various jurisdictions was approved in Fall 2020. This plan received a 2021 APA Florida award of merit for Best Practices.