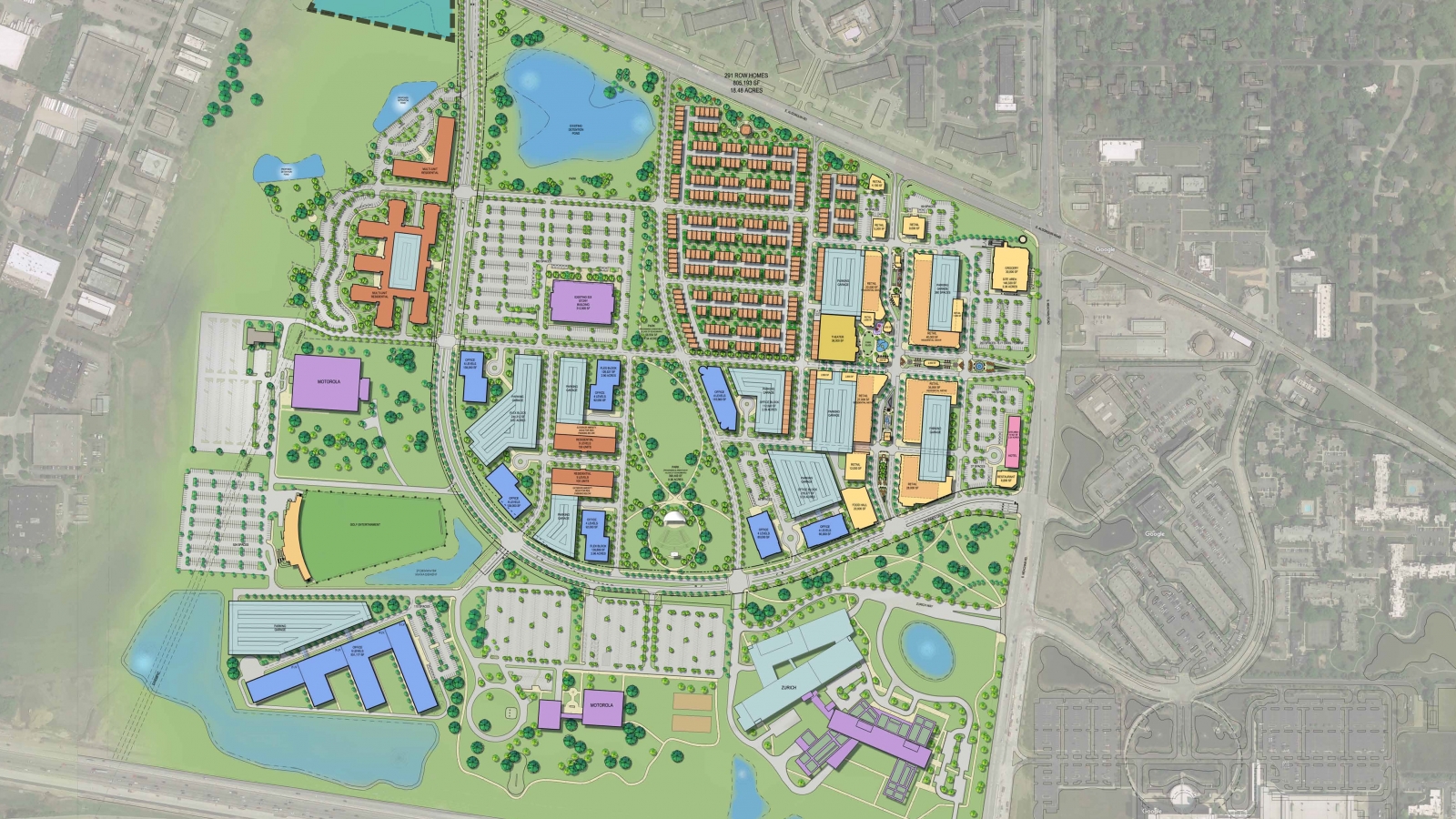 SB Friedman is currently providing development advisory services to the Village of Schaumburg as it pursues the redevelopment of a former corporate campus into a mixed-use development.
In 2015, Motorola Solutions announced it was relocating its corporate offices from suburban Schaumburg to the Chicago Loop. The relocation resulted in the underutilization of a sprawling 200-acre site at a key site within the Village.
SB Friedman was engaged, as part of a team led by Ginkgo Planning & Design, to provide market-driven insight and analysis to aid in the creation of a visionary and implementable redevelopment plan. Our work included identifying key elements that create a sense of place in suburban office contexts and that have the potential to make the site more competitive in the future. This was done through case study research and a comprehensive analysis of recent office market conditions and trends, both locally and nationally.
In 2016, a regional developer acquired the site with the intent of implementing the master plan. SB Friedman is currently assisting the Village in underwriting a request for public assistance that includes up-front and pay-as-you-go tax increment financing. To date, our work has included:
Evaluating key items in the development budget and project pro forma, including project costs, operating revenue, and expense assumptions;

Estimating the developer's financial returns with and without TIF assistance;

Projecting incremental property tax revenues generated by the project;

Evaluating the capacity of the TIF district to repay TIF-backed general obligation bonds, as well as a developer TIF note; and

Negotiating the terms of a redevelopment agreement.
Results: We continue to assist the Village in negotiating the terms of the public-private financing arrangement. The developer hopes to break ground on the proposed $465 million project in 2019. The Village is proceeding with the construction of the central spine roadway that will unlock the development potential of the site.