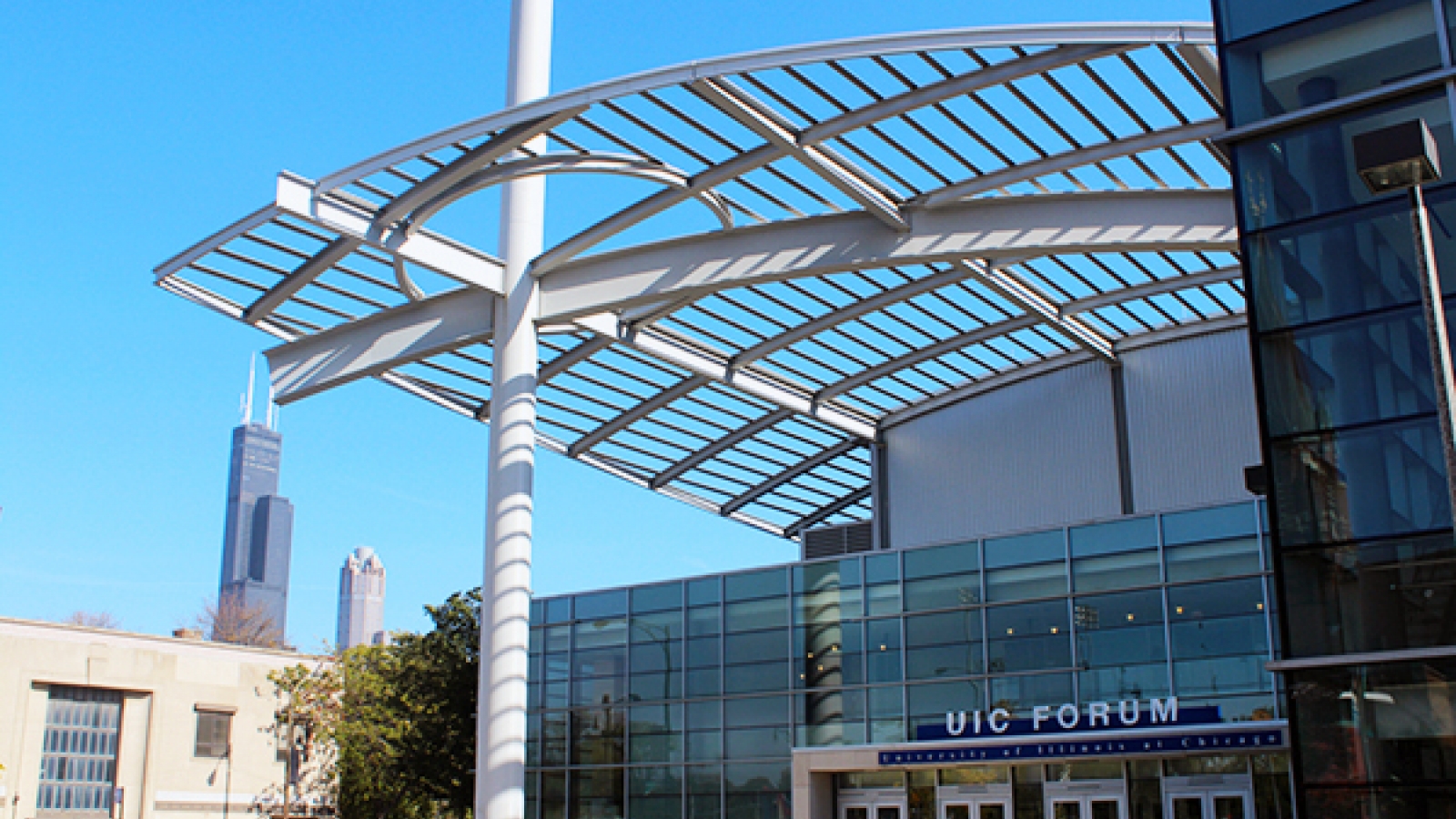 SB Friedman has performed a series of assignments for the University of Illinois at Chicago, a major urban research university located adjacent to Chicago's downtown West Loop neighborhood. Our longstanding advisory relationship with the University began in approximately 1990, and continues today. Major projects that SB Friedman has advised on during this time include:
South Campus/University Village Redevelopment Advisory Services 
The South Campus project is an ambitious 14-block mixed-use redevelopment undertaken by UIC as part of a campus expansion, an increase in the University's on-campus residential population, and a broadening of the local amenities available to the University community and surrounding neighborhood.  The project, which is nearing full completion, includes approximately:
1,500 student housing units in mixed-use and residential-only formats
950 for-sale townhome, single-family, loft, and condo flat-style units
140,000 square feet of ground-floor retail uses, all in mixed-use buildings
70,000 square feet of University office uses on upper floors
600 spaces of structured parking
Prior to founding SB Friedman,Steve Friedman initially conducted a market study of the retail development potential in the area south of Roosevelt Road. This study helped UIC and the City of Chicago recognize that the use of the area for UIC-related purposes was appropriate.  In 1996, the firm was engaged by UIC to assist a 17-member selection committee in reviewing the proposals of four major developers seeking selection to undertake the redevelopment project.  SB Friedman assisted with the structuring of the selected developer's compensation package.  We developed the University's financial pro forma for the project, and have subsequently managed and updated it.  We are assisting in the ongoing financial management of the project by analyzing potential tenants and lease structures, operating costs, tenant improvement allowances, refinancing and master leasing alternatives, and the overall performance of the project. 
UIC Forum Project Due Diligence and Financial Modeling
From 2003-2005, SB Friedman conducted a due diligence analysis to validate and refine University estimates of demand and pricing for a mixed-use Convocation Center and meeting/conference facility.  Our work included interview-based assessments of internal University and external private demand for event space of different types and sizes, as well as a review of market pricing for such facilities.  Working collaboratively and iteratively with University officials, we incorporated this and other data into a financial pro forma for the project that evaluated it in isolation as well as in the context of the broader Student Unions and Campus Auxiliary Services financial entities.  This pro forma was then used to underwrite facility bonds with net proceeds of about $125 million used to finance the project.  The UIC Forum was recently completed and opened for events in February 2008.  It includes:
A 3,000 seat main hall with retractable event seating
On-site catering capabilities
Meeting and conference rooms
UIC Athletics Department Facility and Financial Analyses
Beginning in 2004, SB Friedman has conducted a series of financial analysis exercises for the UIC Athletics Department, a Division 1 program with significant capital facility needs.  Our assignments have included:
Constructing a pro forma for improvements to UIC's baseball and soccer fields that would allow greater usage of the facilities by UIC's competitive teams.  We analyzed the potential for these facilities to be financed through lowered maintenance costs, increased potential for private rentals, and interest income from Athletics' endowment accounts.  The lighting and turf upgrade projects are complete as of spring 2008.
Researching and projecting rental revenue potential for UIC's Physical Education Building to assist the Athletics department in evaluating whether rehab and improvements to the building would be financially feasible.
Reviewing and analyzing in detail the overall financial performance of the Athletics entity to provide future-year projections of revenues and expenses, as well as recommendations as to how Athletics' internal accounting and financial tracking capabilities could be upgraded.
Campus Housing Facility Assessment
SB Friedman conducted an analysis of student rental housing patterns and market conditions to assist UIC with an overall campus housing facility assessment. UIC wanted to evaluate the need for additional rooms and the types of facilities, amenities, and programs important to various types of students interested in campus housing. We first conducted a market analysis to evaluate off-campus housing opportunities and alternatives for UIC students. Our analysis included an identification of primary student housing areas, a review of general rental housing market conditions, a profile of representative buildings, and a summary of housing characteristics that appeal to students for off-campus housing.
SB Friedman then built a financial analysis on the findings of the market assessment. We worked closely in this regard with the University to create a development program to meet student needs, expectations, and ability to pay.  Our work included assisting the University in preparing a comprehensive total development cost budget reflecting realistic University program management and overhead charges, and the revenues and operating costs as a university operation. Alternative forms of ownership and operation/management were explored, and the pros and cons of each alternative were summarized, including both financial and non-financial aspects.  We have subsequently assisted UIC in evaluating public-private partnership-based financial proposals from third parties to construct and operate public-private student housing.