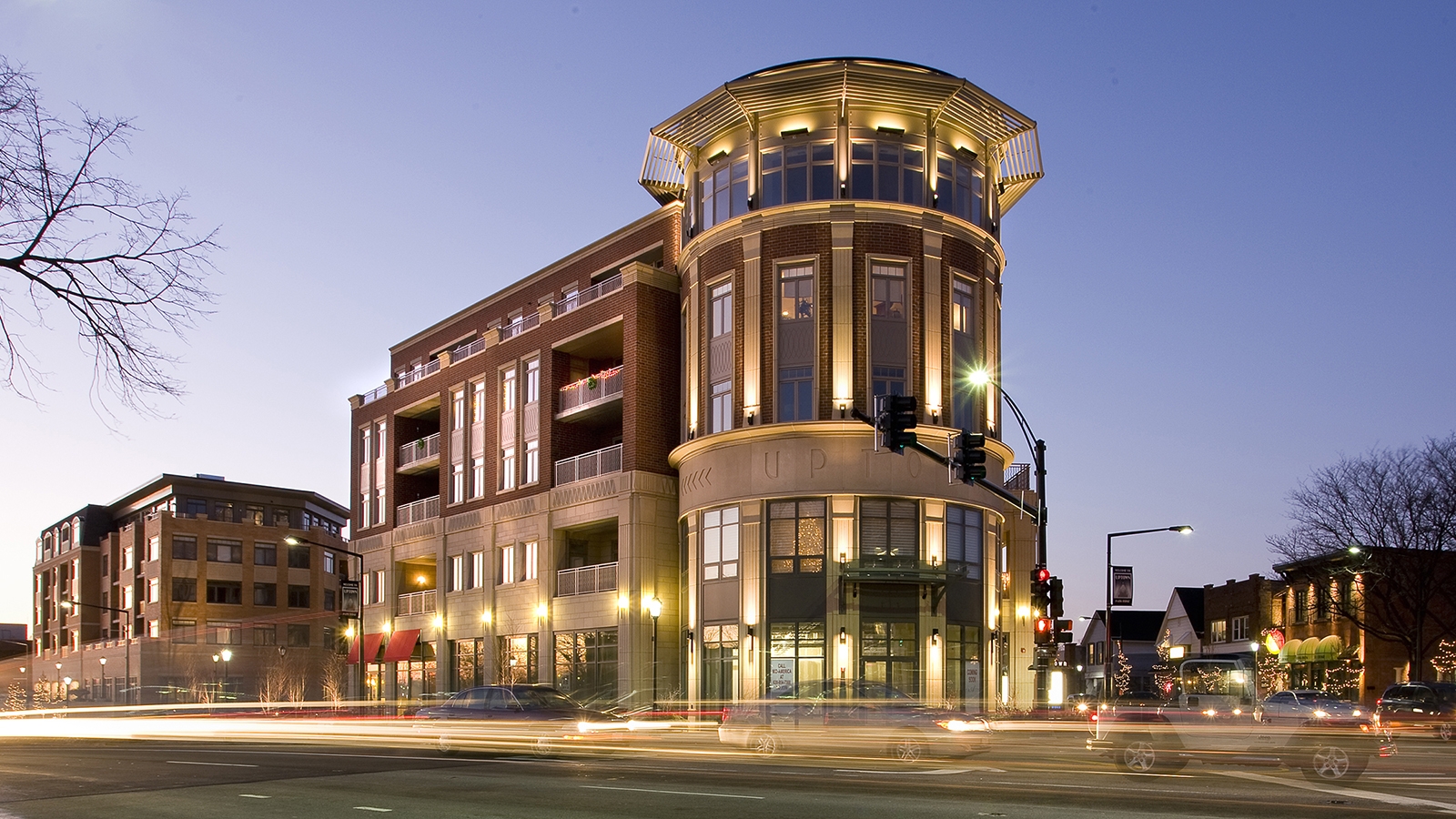 SB Friedman assisted the City of Park Ridge in soliciting developers for Target Area 2 of its Uptown Master Plan, generally known as the Bredemann/Reservoir Area. The City had purchased two car dealerships and had determined that its existing reservoir might be moved.
Working with the City, HKM Architects and Planners, and Parsons Transportation Group, we evaluated the development potential of the site. Key issues were the relationship of the site to the Pickwick Theatre, complex traffic patterns, and establishing a walkable downtown environment.
The block that includes the existing public library was considered off-limits for development. Earlier market studies were updated and expanded.
Through a series of studies, the concept of organizing the downtown around a "city commons" that encompassed the library block was introduced, making this site a focal point since it could not be developed. A number of ways to tame traffic at the intersection were also identified.
We worked through a number of issues related to height, design, materials, and uses in a series of sessions with both staff and the City Council. Mid-process, seven of the 14 members of the City Council were replaced as a result of contested elections. After several sessions involving both old and new aldermen, the City Council unanimously approved the issuance of the Request for Developer Qualifications and Proposals (RFQ/P). The RFQ/P was released in early September 2003 and attracted 19 responses. Five developers were short-listed and submitted final proposals.
We then evaluated the development proposals for Target Area 2 based on their fit with City goals and development guidelines, site planning and design quality, architectural design quality, and economic benefits. In order to evaluate economic benefits to the City, we conducted a financial analysis that included TIF projections, sales tax projections, and a review of development costs.
Results: The 14-member City Council selected a preferred developer in May 2004. SB Friedman assisted the City in evaluating the detailed development proposal, economic feasibility, and developer return, and in reviewing and negotiating the terms of a redevelopment agreement with the developers. On December 20, 2004, the City Council unanimously approved the redevelopment agreement. Groundbreaking took place on June 1, 2005. This $100 million mixed-use project is complete and substantially sold out or leased.
The project won the 2008 Gold Award from the Illinois Chapter of the American Planning Association, as well as the 2008 award in the Neighborhood, District, and Corridor category from the Congress for the New Urbanism.